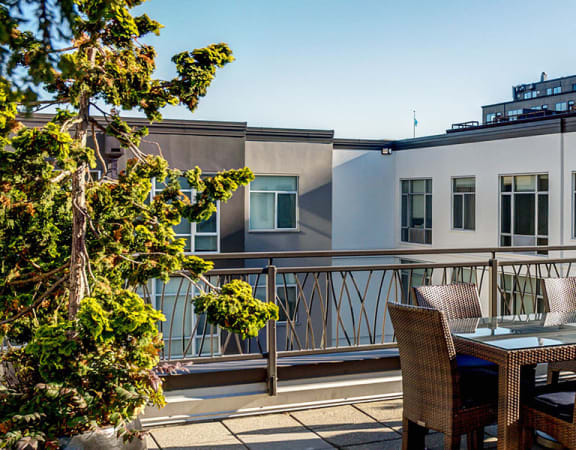 WELCOME TO
10th @ Hoyt
On first impression this Pearl District apartment building is beautiful. This could definitely be a place to call home. Looking up, you see some people on the rooftop deck. Ah, apartments with city views. They can probably see the whole neighborhood from there: Patagonia, Lounge Lizard, Relish, the fountain at Jamison Park, and all 8 art galleries. Youll never go hungry around here either. Sushi, steak joints, Burrito Bar. And Rover will be happy too, living in this pet-friendly community.
Luxury Living in the Pearl District
High-rise city views of the Pearl District are right outside your window. Within full view of Mt. Hood, the rooftop spa, kitchen, fireplace, barbecue, and sun deck are at the center of everything. You're located directly on the Portland Streetcar line in Fareless Square. With an impressive Walk Score of 99, 10th @ Hoyt puts the best of the Pearl at your fingertips.
LIVE IN SUSTAINABLE STYLE
Our dedication to good living means good for the planet, too. With eco-friendly bamboo cabinets and floors, a recirculating rainwater system, and award-winning landscaping focused on maximizing our green space, 10th @ Hoyt is a home you can feel good about. You can feel good about our designer touches, too, including soaring 9-foot ceilings and black granite countertops.